Inherited IRAs in Moneytree Plan have been improved. You can now enter multiple Inherited IRAs. Users can enter an unlimited number of Inherited IRAs. Each inherited IRA has its own report page.
The following is re-posted from an article written by Carolyn Rothwell. Only product names have been updated to reflect new product names. It goes over Inherited IRAs when they were first introduced into the program.
Note: The following information provides great context explaining the Inherited IRA inputs. However, the tax details are no longer accurate due to changes in the SECURE Act:
It is more difficult to distribute based on RMDs.
RMDs now start at 72.
The law added the 10 year rule. It functions the essentially the same as the 5 year rule. Individuals must withdraw the entire balance of their IRA within 10 years.
---
The new inherited IRA feature in Moneytree Plan allows planners to enter inherited IRAs in the Asset Details section. When entering an inherited IRA, make sure to select the asset type of "Retirement Plan" and the retirement plan type as "Inherited IRA". A new tab will become available called "Inherited IRA". Move to this tab to select details about the inherited IRA. The program will enable/disable certain options and fields based on selections to gather only the required information.
Beneficiary:

Spouse, Non-Spouse, or Estate
Single or Multiple Beneficiaries

IRA Type:
Death of Owner:

Prior to Required Beginning Date
After Required Beginning Date
Beneficiary's Age at Death of Owner
Age of Owner at Death

Distribution Options:

Rollover into Own
Distribute Based on RMDs
5-Year Rule
Schedule custom distributions using the Age Change Table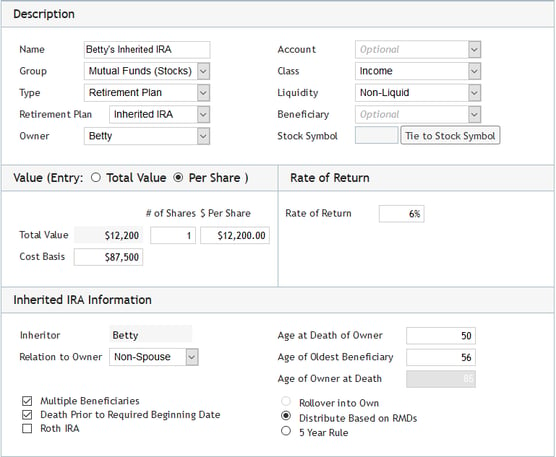 Easy Money and Golden Years reports will track the inherited IRA account balance overtime and handle the distribution calculations based on the information set on the Asset Details and Inherited IRA tabs.  Taxation of the inherited IRA distributions will also be included in the calculations.
The chart below explains the distributions options available, assuming a traditional IRA with a single beneficiary, based on selections for a beneficiary type of spouse, non-spouse or estate.  The distribution treatment that will be reflected on the Easy Money or Golden Years is summarized.
This feature has been well received by our early adopters, including Timothy Hayes CFP®, who had this to say about the new inherited IRA functionality:
"The latest update to TPS (with the inherited IRA tab) is a great improvement! Thanks for incorporating the inherited IRA data/information – it makes the RMD calculation and distribution illustrations so much easier and better. Thanks again."
Thank you for the kind words Tim.
We hope that you will all enjoy this new feature!